Lexicraft highlights their LinkedIn Page
As we continue to demonstrate some of the great products that Lexicraft offer, have you ever visited our company LinkedIn page? We have recently started to highlight many of the areas of the business and what we can offer our customer base. Please see the link below to our page, always well worth a read, and a like, what not go and share a few of our posts!!
https://www.linkedin.com/company/lexicraft/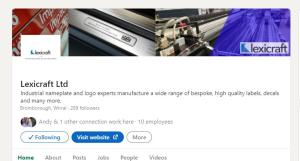 Well worth a quick look, we at Lexicraft like to highlight some of the many processes we have. Labels created using process ranging from digital, anodising to chemical etching have been highlighted in the past few months.
Give the page a follow to keep updated on our developments.